World Record Truck Pull by Wout Zijlstra and Jan Wagenaar
Wout Zijlstra and Jan Wagenaar set a two-man truck pull world record last weekend, Real Dutch Power chairman Jan Haaring told IronMind®.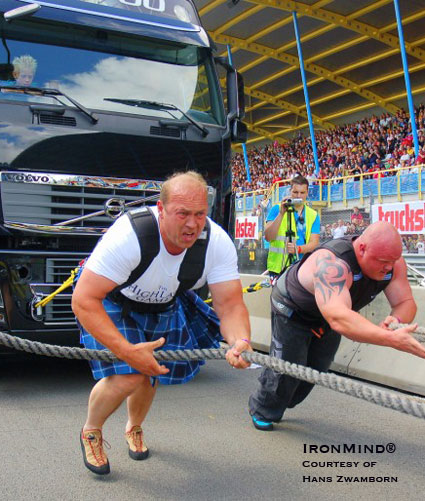 Wout Zijlstra and Jan Wagenaar supply the horsepower in this two-man truck pull. IronMind® | Photo courtesy of Hans Zwamborn.

Here is the report.

World Record Truck Pull by Wout Zijlstra and Jan Wagenaar

By Jan Haaring

Highland Games legend and former Dutch Strongest Man and former World'sStrongest Man finalist Wout Zijlstra (45 years old and 145 kg) has set a new world record 2-man truck pull last Saturday on the Dutch TT (motor) circuit at Assen during the 25th anniversary of the National Truck Star festival.

Before a crowd of 12,000 spectators Wout Zijlstra pulled a truck, using a harness and rope, together with "rookie" Jan Wagenaar (3rd at the Dutch Strongest Man competition 2009). The two strong men pulled a 100,000 kg combination over a distance of 12 meters. The target was 10 meters and they did 12!

Wout has planned to attempt this new world record with his colleague and strongman friend Jarno Hams, but as we know, Jarno tore his muscle from his leg during the Strongman Champions League in Holland earlier this year. But rookie Jan "The Red Hulk" Wagenaar (32 years old and 135 kg) did the job for him!