World Heavy Events Championship: The Competitors
Fergus, Ontario has more than a half-century tradition of excellence in hosting the Highland Games; and on August 10 - 12 the gathering will have the added luster of presenting the 2012 World Heavy Events Championships: see what happens when the biggest and baddest boys on the planet get serious about playing with stick and stones, not to mention the ball and chain.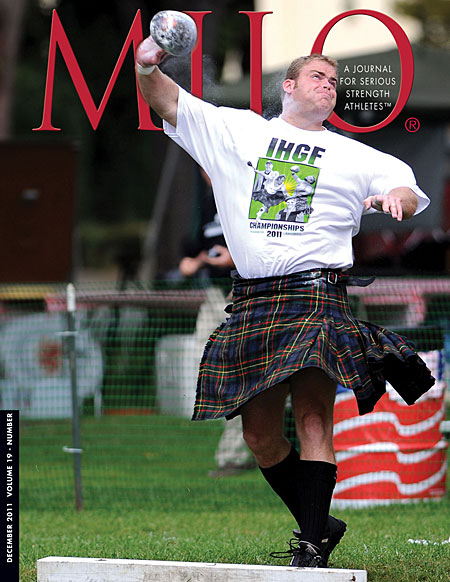 MILO cover guy Dan McKim—who won the 2011 IHGF World Championships and the 2011 US national championships—is expected to be a podium favorite in Fergus, but with such a top field, McKim is the first to say that there won't be any gimmes. IronMind® | Randall J. Strossen photo.

Here is the official lineup of athletes:

• Sebastian Wenta, Poland

• Lucas Wenta, Poland
• Craig Sinclair, Scotland
• Hans Lolkema, Holland
• Christoph Wand, Canada
• Greg Hadley, Canada
• Dan Mckim, USA
• Ryan Vierra, USA
• Matt Vincent, USA
• Mike Pockoski, USA
Sean Betz, Nebraska, USA
Rusty Price, California, USA


"Asked about the contest, Dan McKim told IronMind, "This year's field of competitors is probably the toughest collective group I've ever seen. To be competitive, you'll have to be on top of your game in each and every event—you can't have a sub par event and expect to stay in the mix. Whoever comes away the champion this year will know he did it against one of the best groups ever put together.
"I've been working hard towards it, but we'll see what God brings."

###

The IronMind Forum: discuss this article, talk strength, get help with your training.

You can also follow IronMind on Twitter.