World Cup Strongman in Minsk
The next stop on the World Cup Strongman circuit is Minsk, Belarus on May 7th.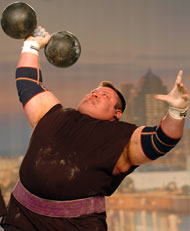 Glenn Ross, who will be competing in Minsk, pounds out ten reps on the Inch dumbbell at the Arnold. IronMind® | Randall J. Strossen, Ph.D. photo.
The events are:

1. Farmer's walk, 2 x 140 kg for maximum distance
2. Log lift, 125 kg for repetitions
3. Conan circle, 350 kg
4. Car lift, maximum repetitions
5. Truck pull, 15 tons for 25 meters
6. Tire flip, 350 kg for time on a 20-meter course
Reserve event: Super yoke, 350 kg on a 20-meter course for time

The contest is drawing competitors from nine countries, and one of the featured competitors is Glenn Ross (Ireland), who is coming off a very impressive debut at the Arnold Strongman contest, where he won two events, set a world record, and finished third, overall.