Woodall, George and Brock: Global Grip Champions
Irmo, South Carolina - Chad Woodall took top honors in the men's large-hand class, Scott George did the same in the men's small-hand class, and Jes Brock followed suit in the women's class, but this was a contest where everyone was a winner.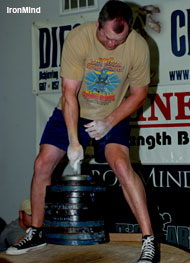 Chad Woodall set a world record in the vertical bar lift (382.5 pounds) on his way to winning the men's large-hand class at the 2006 Global Grip Challenge, in what was a best-of-show contest at the Sorinex facility. IronMind® | Randall J. Strossen, Ph.D. photo.
This contest set a high water mark for what contest can be: A great field of top competitors, tremendous spirit and enthusiasm, and if you weren't having a good time being there, it was time to have your pulse checked.

In the men's large-hand class, here are the final places and points:

1. Chad Woodall 44.7
2. Dave Thornton 40.5
3. Jedd Johnson 38
4. Jeremy Haller 28.2
5. Troy Smith 13.2

In the men's small-hand class, the final places and points were:

1. Scott George 34.5
2. Anson Castelvecchi 33
3. Tommy Heslep 31.5
4. Jon Creason 29.2
5. Kevin Perrone 28
6. Bert Sorin 28
7. Chris Rice 22
8. Jeremy Copley 18.5

Jes Brock won the women's class with 31 points, followed by Sherry George with 2 points.

Erik Vining did a very impressive series of bends following the competition and his fabulous scrollwork was presented as trophies to the top finishers in the contest.

Hosted by Sorinex, this was the perfect setting for a perfect contest and a fitting way to celebrate Richard Sorin's 56th birthday. And who put together all the pieces, which included tons of plain hard work? The Diesel Crew. Many thanks to Richard and Bert Sorin for a great time and to the The Diesel Crew, all we can say is Go Diesel. For results, stop by Diesel Crew's website and give these guys a huge round of applause for what they just did.

Hats off to everyone at this contest - only three people got first place in the competition, but everyone there was a winner.