Women Open Weightlifting: 48-Kg Class is Red Hot
Athens - Weightlifting got off to a sizzling start at the Olympics today as Turkey's Nurcan Taylan set five Olympic records, three world records and, yes, she also won the gold medal.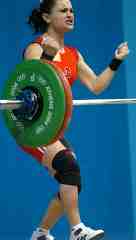 Nurcan Taylan celebrates her second world record of the night in the snatch, 97.5 kg. IronMind® | Randall J. Strossen, Ph.D. photo.

No need for exaggeration here - this was a great class. Li Zhuo (China) is the world record holder in the clean and jerk (116.5 kg), so it would have been mistake to count her out when Taylan led her 97.5 to 92.5 going into the clean and jerk, but it wouldn't be easy because besides having the lead, Taylan was the lighter lifter.

Taylan opened with 107.5, which took a little effort, and Li followed with a strong 112.5, so we knew that we had a fight on our hands. Taylan followed with a very powerful clean with 112.5, in an attempt to regain her lead, but missed the jerk. Now it was Li's turn to wait, and when Taylan made 112.5 on her third, after a real fight to hold the jerk, Li called for the 120 kg required for the gold medal. Twice she cleaned it and twice she missed the jerk. Aree Wiratthaworn (Thailand) had the biggest clean and jerk, 115 kg, and she picked up the bronze medal. Big numbers, great competition, a terrific start in Athens.