What better place than Sonoma County (in the heart of California's wine country) to find out more about wine and weightlifting?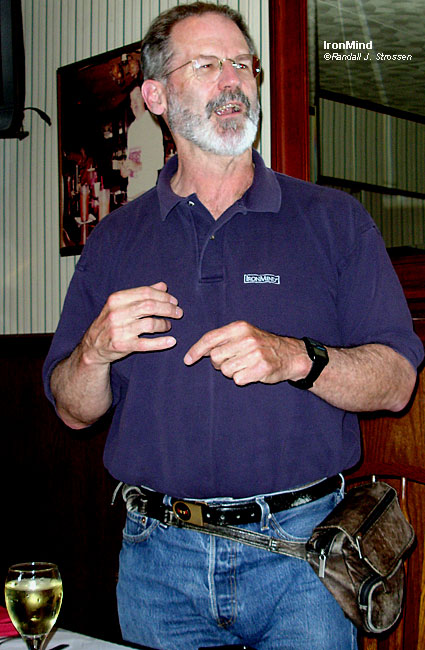 You might think Jim Schmitz is training for the Redwood Empire Weightlifting Championships, but he's actually about to toast Tommy Kono, who was honored at a dinner in Sacramento last year. IronMind® | Randall J. Strossen, Ph.D. photo.

If you've been wondering which wine goes best with weightlifting - maybe not at the level of pairing a Sauvignon Blanc with snatches and maybe moving to a Chardonnay, if not a Merlot or a Zinfandel, for the clean and jerk - here's your chance to find out, because on June 23rd, the Redwood Empire Championships will be held at La Plaza Park in downtown Cotati. In addition to wine, beer and BBQ will also be on hand . . .

Meanwhile, back to the lifting, this is yet another Pacific Weightlifting Association good-time meet and in case you didn't know it, the PWA has been hometown territory to such top lifters as Tommy Kono, Bruce Wilhelm and Mario Martinez; throw in leading weightlifting coach and administrator Jim Schmitz, put Butch Curry ('80 Olympian) at the helm of the PWA, and a pile of great people working in the trenches, and now you know why weightlifting is booming in Northern California.

And just so you don't think everything is taking place north of the Golden Gate Bridge, mark your calendars for May 20, when the FIT Barbell Club will host the NorCal Open in Los Altos, California. FIT (Focused Individual Training) has been pivotal in supporting and developing weightlifting on the San Francisco Peninsula, in Stanford-Apple-HP, etc. territory, just in case you thought you could only snatch or clean and jerk in a less lustrous setting. So if you want to see another paradigm-challenging weightlifting program, head over to this meet.

For full details, please check NorCal Open.