Chances are good that early on in your lifting career, as you learned the basics, you ran into "cheat curls," and from there you learned about the general principle of adopting a looser style so that you could move bigger weights.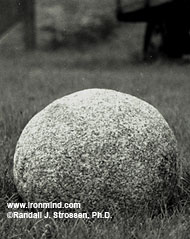 Scotland's famed Inver Stone: Are your values rock steady or do you blow with the wind? IronMind® | Randall J. Strossen, Ph.D. photo.
No problem there, as long as the cheat curl was recognized for exactly what it was: a cheat curl. Things have gotten more complicated now, though, as opportunities abound to do everything from using a deep set to close a gripper beyond your actual strength to donning a series of shirts so that you could claim a bench press stratospherically higher than what you could do raw. There's a reason why we sometimes describe call short squats as being "hundreds of pounds high," and what IronMind®'s resident philosopher Steve Jeck puts the spotlight on this month is the broad subject of cheating versus being a person of principle.

Read, consider and prosper from Steve's insights . . . Follow the From the Quarry link on the IronMind® homepage or go directly to the Steve Jeck's From the Quarry Index page.