Who's the Strongest Man in the World?
Paul Ohl, chairman of the Quebec Organizing Committee, said that after three days of negotiations with top IFSA Holdings officers, "I think we are just about done," and pointed to the prospect of officially signing a contract in Warsaw next month.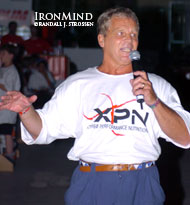 Paul Ohl, a leading strength historian, introduces the backlift at the 2004 World Muscle Power Championships (Dolbeau-Mistassini, Quebec). IronMind® | Randall J. Strossen, Ph.D. photo.
With Paul Ohl and ExpoCite officials Mark Sparrow and Jacques Dupuis representing Quebec, and Dr. Douglas Edmunds, Jussi Laurimaa and Malcolm Crease representing IFSA Holdings, the talks concluded with "general agreement" on such key points as contest format, location, the event selection process and the range of compensation for the athletes.

A central point in Paul Ohl's vision of the strongman competition is to view it as an extreme sport with the athletic component taking priority over TV considerations, and this dictates significant changes from the approach taken in the World's Strongest Man competition, Ohl explained.

Emphasizing this point, Paul Ohl said that a condition stated by the Quebec Organizing Committee was that IFSA Holdings would be required to present a formal guarantee that the TWI World's Strongest Man contest would have to be recognized as a non-title event, and would be considered to be a TV show or an exhibition.