2008 Fortissimus Organizing Committee Chairman Paul Ohl has opened it up to you, members of the worldwide strength athlete community: Share your thoughts and cast your votes on who you would like to see invited to Fortissimus next year . . . Who do you think are the ten strongest men in the world?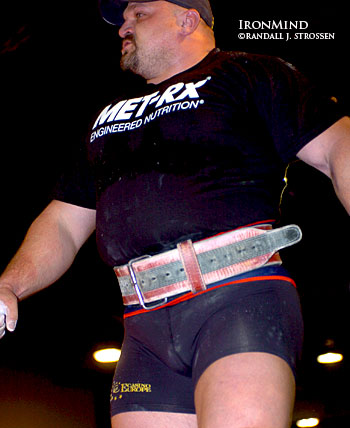 After completing the superyoke at the 2006 Arnold strongman contest, Vasyl Virastyuck (Ukraine) stalks on stage. Randall J. Strossen, Ph.D. photo.

Paul Ohl said that suitable candidates should: "Be at a world-class level, show a track record of of at least six international strongman competitions in the past two years with placings in the top five, and challenge the decathlon of strength concept, meaning 10 events mixing brute strength, dynamic power and strength endurance."

IronMind's editorial comment is that while it seems clear that Mariusz Pudzianowski (Poland) and Zydrunas Savickas (Lithuania) are most likely to be the first two competitors to be named - Mariusz for his World's Strongest Man supremacy and Zydrunas for comparable performances at the Arnold and the IFSA World Championships - opinions will begin to diverge from that point forward.

Vasyl Virastyuck (Ukraine) is the next guy that IronMind would vote to add to this list - while he doesn't get the publicity of either Mariusz Pudzianowski or Zydrunas Savickas, the case can be made that Vasyl Virastyuck is actually the best all-around strongman competitor: He is the only man to have won both World's Strongest Man and the IFSA World Championpionships, plus he has been second in the Arnold, twice.

If you would like to share your thoughts on this, please send your comments and your votes to sales@ironmind.com before end of day Pacific Time (GMT -8) on Wednesday.