Bill Lyndon told IronMind® that he has been hard at work, laying a foundation "in Australia and Asia [for] next year in the business of strongman."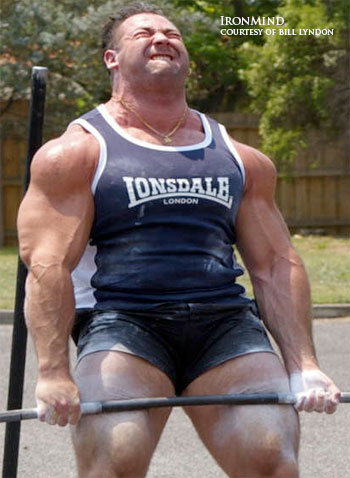 Bill Lyndon presents Robbie Fernandez - who Bill said deadlifted 360 kg in training last week - as a top prospect for a major strongman contest. "Who wants him" Bill asks. IronMind® | Photo courtesy of Bill Lyndon.
"I have been busy flying 'below the radar' for the past few years, but have a built up a solid base of good international prospects for the international strongman scene," Lyndon reported. "As you know," Lyndon explained, "strongmen are hard to find at the top level and take a long time to develop, [but] we have a few guys ready this year."

"I would like all federations to know we are open for business. I have sat back and watched the goings on with IFSA, Fortissimus, WSM, [and] WSMC," said Lyndon, giving examples of how requests for exorbitant sanction fees and unpaid travel expenses from different federations had left him with a bad taste in his mouth.

"Really, the passion has gone from the sport," said Lyndon. "The only way at this stage I can promote and develop is in partnership with a leading organization. Who will put their hands up" he asks.

"I know we are far from everyone else in the world, but we have some big strong guys in the Southern Hemisphere. Did you know that only two athletes competed from the Southern Hemisphere this past year: Derek Boyer and Etienne Smit...Seems like World Strongest Man is really the Strongest Man from the Northern Hemisphere."