Chiang Mai, Thailand - The wonder boy of weightlifting, MILO® cover guy Ilya Ilin, is absent from the start list at the World Weightlifting Championships, so where is he?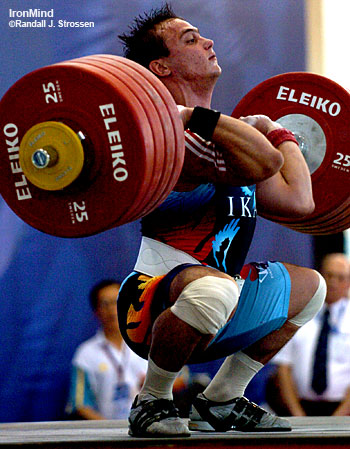 Ilya Ilin, the phenomenal junior, attacking a 233-kg world record attempt in the clean and jerk at the 2006 World Weightlifting Championships. IronMind® | Randall J. Strossen, Ph.D. photo.

Kazakhstan's head coach, Alexi Ni, told IronMind® today that Ilya Ilin injured his back in training about two weeks ago and that is why he will not be lifting in this year's World Weightlifting Championships.

"For three days, I was not there . . . no control . . . and Ilya lift heavy every day. He is crazy, crazy . . . Every day I must control [him]."

"He is very strong," Ni said. "He snatched 185 kg, and cleaned and jerked 235 kg."

Ni and Ilin have both told IronMind® that the number-one focus is the Beijing Olympics next year, and while the original game plan had called for Ilin to skip both the Asian Weightlifting Championships and the Junior World Weightlifting Championships, but to compete in the Senior World Weightlifting Championships this year, his absence here is a big disappointment to weightlifting fans. Ni told IronMind® today that Ilya Ilin will lift in the 2008 Asian Weightlifting Championships, and then in the Beijing Olympic Games.