Where The World Was Last Night
Beijing - China "dreamed of opening its doors to the world," IOC president Jacques Rogge said, and last night, that dream came true as the top athletes from all corners of the globe gathered in Beijing for the Opening Ceremony of the 29th Olympic Games."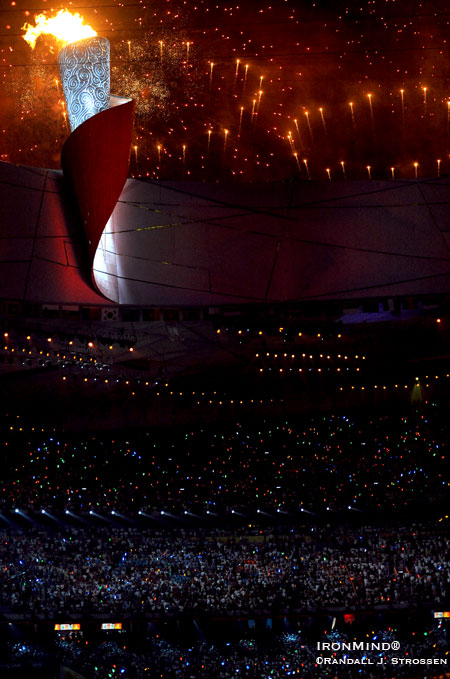 Where the world was last night: The Olympic cauldron was lit for a packed house of nearly 100,000 people, but that was only a fraction of the global audience watching spellbound as Chinese gymnast Li Ning danced along the upper rim of the stadium before lighting the Olympic cauldron. IronMind® | Randall J. Strossen, Ph.D. photo.
Chinese president Hu Jintao officially opened the Games, and Jacques Rogge said "the Olympics are not about performance alone," as he reminded all to uphold the Olympic values of excellence, friendship and respect. The ceremony lasted over five hours in what were sauna-like conditions, but the mood was festive, as befits a human celebration on a scale seen nowhere else.