Can't make it to Europe or Asia this year, but don't want to wait for the 2008 Olympics to see some weightlifting, or maybe you're looking for a place to see how much you really can snatch or clean and jerk?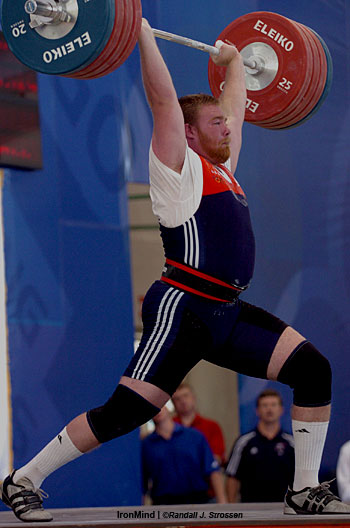 California's Casey Burgener, a favorite for the 2008 Olympic team, placed 10th at the 2006 World Weightlifting Championships, making him a superior super and the top scorer on the USA men's team. IronMind® | Randall J. Strossen, Ph.D. photo.
Thanks to Tom Hirtz, IronWorks gym and the entire Heavy Athletics crew, Oregon has had a thriving weightlifting program in recent years. In 2007, things kick off at Gene and Jon Joseph's IronWorks Gym on February 3; March 24 is the Spring Classic; April 21 is the Pacific Northwest Championships; June 2, University of Oregon/State Championships; September 22, Heavy Athletic Club Meet; October 27, Halloweenie; December 8, IronMind Open. The Spring Classic and the Halloweenie are unsanctioned, which Tom Hirtz says, "are generally for the person who has never lifted in a meet before. If you come . . . in your $300 lifting shoes . . . you don't belong in our unsanctioned meets."

Moving south, heading into California, 1980 Olympian Butch Curry, with a little help from his friends, has a full schedule lined up for the PWA (not another Palestinian group, this is the Pacific Weightlifting Association, one of the oldest and most active LWCs in the country - home of such greats as Tommy Kono . . . this is where a shy, mild-mannered guy named Bruce Wilhelm started lifting and it's the neighborhood where he still hangs his hat).

PWA festivities kick off this weekend, at Lincoln High School in San Francisco, for the PWA Junior Championships; on February 11th, it's back to Lincoln High School for the PWA Championships and in between, the one and only Mike Conroy will be running a Sports Performance Coach course at Lincoln High School in Stockton. Not sure what it is about Lincoln High Schools throughout the great state of California, but for the full calendar of PWA, as well as National and other Western states meets, please check the Pacific Weightlifting Association's website.