Wes Inman Certifies on the IronMind Red Nail™
Kicking off the new with another notch on his belt, Missouri's own Wes Inman has just been certified on the IronMind Red Nail—a benchmark short steel bend.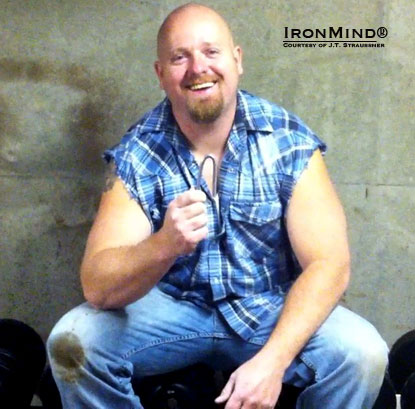 Wes Inman, successful on the IronMind Red Nail™, relaxes in his home gym. IronMind® | Photo courtesy of J. T. Straussner.


"I grew up in Arcadia, a very small town in the foothills of Missouri. I enjoy the slow pace of the country life," Inman told IronMind, but don't think this means sitting around on the porch just looking at sunsets.

"I work on a horse/cattle ranch and my hands are what bring home the check. The stronger my hands the better I can perform," said the 6' 2", 235-lb. Inman.

"I love this sport and I plan to take my body to the limit. Who knows where that will end? But there is one thing for sure: I'm very excited to do battle with the Red," Inman said. "I strive to be known as a man who never gave up and pushed for others to accomplish their goals in the world of iron."

Congratulations to Wes Inman, whose name has been added to the Red Nail Roster, and many thanks to J.T. Straussner, one seriously strong guy himself, for serving as the referee on Wes's certification attempt.

###


The IronMind Forum: discuss this article, talk strength, get help with your training.

You can also follow IronMind on Twitter.