Weightlifting and Television
Television in Europe Executive Producer David Goldstrom presented his thoughts on weightlifting and television today at the IWF symposium in Rome.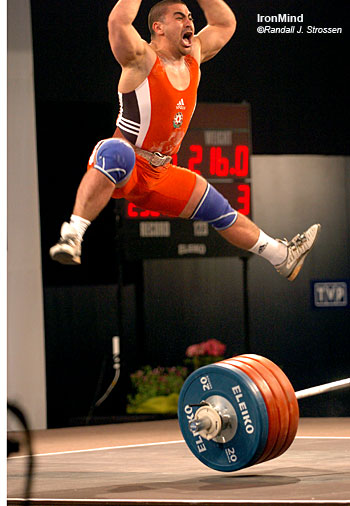 Weightlifting is a naturally exciting sport and David Goldstrom sees large, as-yet-untapped, potential in terms of television coverage. Here, Nizami Pashaev (Azerbaijan) celebrates at the 2006 European Weightlifting Championships (Wadyslawowo, Poland). IronMind® | Randall J. Strossen, Ph.D. photo.

Goldstrom, who first became involved with televising international weightlifting when he covered the the 1995 World Championships, has been very successful in his programming of the European Weightlifting Championships, where he is ably assisted with expert commentary by former top lifter and now a fitness-book author, Dave "Be Your Best" Morgan.

Goldstrom stepped down from World Weightlifting Championships coverage in 2003, but he told IronMind® today that after what he viewed as the "dismal" coverage in 2005 and 2006, he is in active discussions to return to the Worlds this year.

Goldstrom said turning things around for weightlifting coverage on television cannot be seen as a short-term project, but rather he is focused on making significant progress in the next Olympic cycle, a challenge that Goldstrom is eager to accept.

Next up for Goldstrom is coverage of the European Weightlifting Championships in Strasbourg, France next month: "Since I am bringing in my own TV crew," Goldstrom said, "there's a bit of pressure on me to do a really good job."