Weightlifting: It's a Family Thing
There are a lot of traditions that can be passed down from fathers and mothers to their sons and daughters.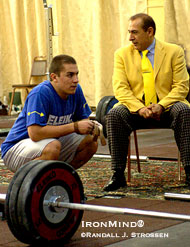 Norik (left) and Yurik Vardanian (right) in the training hall at the 2005 World Weightlifting Championships (Doha, Qatar). IronMind® | Randall J. Strossen, Ph.D. photo.
And one of those is being a weightlifter.

Former USA Olympic weightlifting team coach Jim Schmitz gives us a recap of some of those who have this sort of legacy, so if you've got some from-whence-they-came type questions, read on. Click on the Jim Schmitz on the Lifts link on the IronMind® homepage or go directly to the Schmitz on the Lifts Index.