Weightlifting: Asia Edging Europe in Olympic Countdown
With all eyes in the weightlifting world focussed on the London Olympics, the International Weightlifting Federation released results today that include the top three places from the 2011 European Weightlifting Championships and the Asian Weightlifting Championships.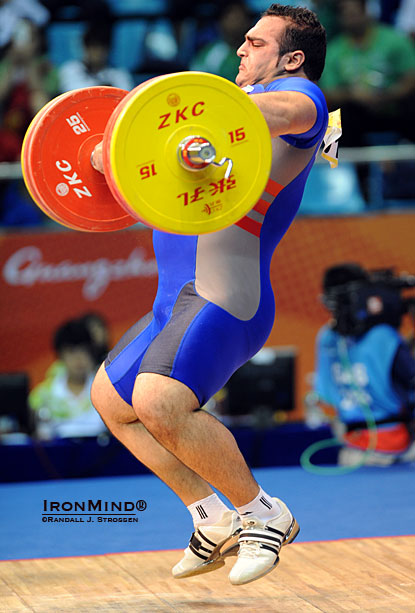 Behdad Salimi (Iran), shown in midflight with his 205-kg snatch at the 2010 Asian Games, won the supers at the recent Asian Weightlifting Championships via a 208-kg snatch and a 250-kg clean and jerk. IronMind® | Randall J. Strossen.

These are not only the two most prestigious continental championships in the sport, but they also highlight the growing intercontinental rivalry in a sport which has deep roots in European and has been quick to flourish at the highest levels in Asia. These two championships just took place, so it is interesting to compare results.

There are many analyses that can be performed on the raw data presented, but to get the ball rolling, the Asian Weightlifting Championships had a higher winning total in four of the seven women's body weight categories. On the men's side, Asia had a higher total in four of the eight body weight categories, and Europe had the edge in three of them (equal totals in another category, but without having the athletes' body weights, for the purposes of this quick analysis, we are treating that outcome as a tie).

Later this year, at the World Weightlifting Championships, these two powerhouse continents, along with the rest of the world, will meet in Paris for the what is the primary qualifier for the 2012 Olympics.

Hats off to the IWF for compiling these data.

###



The IronMind Forum: discuss this article, talk strength, get help with your training.

You can also follow IronMind on Twitter.