Strongman season has already started - with the big Arnold contest - and the now the weightlifting world is warming up, as attention is turning to the upcoming European Championships and also smaller, early season meets in Asia.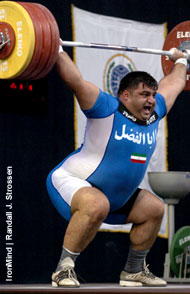 Hossein Rezazadeh (Iran) snatches 210 kg at the 2005 World Weightlifting Championships (Doha, Qatar), a rather routine weight for the two-time Olympic gold medalist. Evgeny Chigishev (Russia) snatched the gold, however, with a very impressive 211. Who will be the top super this year? IronMind® | Randall J. Strossen, Ph.D. photo.

It's still early, but the European Weightlifting Championships later this month will provide the first serious look at who in Europe is really lifting what, and in Asia, smaller meets will give an early read in what is becoming a hotbed of huge lifts; plus, the Junior Worlds (in China at the end of May) are likely to reveal the future stars of the sport, including leading medal prospects for the Beijing Olympics.

Stay tuned!