"We View Strongman as a Sport"
Explaining what sets the IFSA Strongman World Championships apart from TWI's approach with the World's Strongest Man contest, IFSA Managing Director Christian Fennell told IronMind, "We view strongman as a sport."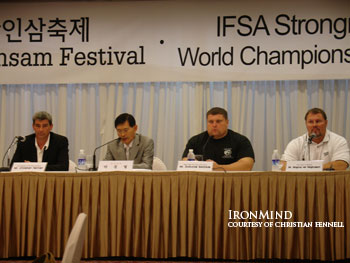 IFSA's Christian Fennell, Zydrunas Savickas and Magnus Ver Magnusson at the press conference announcing the upcoming IFSA World Championships, September 9 - 15 in Geumsan, Korea. IronMind® | Photo courtesy of Christian Fennell.

It comes down to whether you view strongman as entertainment or as a sport, Fennell said, and the World's Strongest Man contest was developed as a novel, once-a-year television show that featured big, strong guys. Later, IFSA had worked closely with TWI on the World's Strongest Man contest until IFSA and TWI parted ways after the 2004 season, Fennell explained. "The work that Dougie [Edmunds] and Jamie [Reeves] did was moving World's Strongest Man toward a sport, and World's Strongest Man contest was at the top of the pyramid [in strongman] because of the IFSA affiliation, but without IFSA in the picture, World's Strongest Man will go back to its roots."

Fennell also reminded IronMind® that IFSA, in only it's third year, already has a enormous television platform, including Grand Prix events and World Championships, reaching over 500 million households and featuring over fourteen hours of strongman.

Bearing on this point of strongman as a sport, IFSA's Marcel Mostert, told IronMind® that the competitors for the IFSA World Championships had to qualify via a system of national and continental championships, rather than simply being picked. The bottom line, according to Mostert, is that there is no question that IFSA has stronger competitors than World's Strongest Man.

"Just look at our world records," Mostert said, to reinforce his point about performance levels. Mostert also mentioned the IFSA standardized equipment designed by Jamie Reeves, used to ensure that the same apparatus is used for world records. "Come to us . . . make a world record," Mostert invited. "We will see how it goes."

We call the winner of our World Championships, "the world's strongest man," Mostert said. "Of course, the other World's Strongest Man is also a good contest."

The IFSA World Championships are set for Geumsan, Korea, September 9 - 15.