Wanted: World-Class Weightlifters
"It's not about numbers," Tommy Kono told IronMind, as he rued the fact that the USA is not competitive in the upper echelons of the international weightlifting world.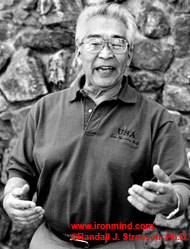 Tommy Kono - who won gold medals in weightlifting at the 1952 and the 1956 Olympic Games, and a silver medal at the 1960 Olympics - says it's all about setting higher goals and then achieving them. IronMind® | Randall J. Strossen, Ph.D. photo.
Kono, whose own career includes world records as well as Olympic and world championship medals, said that the US program emphasizes boosting the base of weightlifters, while he would prefer to see a primary emphasis on quality. "That's never going to improve anything," Kono said, "because the goal isn't lofty."

Instead, Kono would prefer to see a focus on identifying and developing American weightlifters who can break into the top international ranks. Kono said, "We need someone who really wants to be a weightlifter and who really wants to break world records."

Kono, whose iron game accomplishments are staggering, might be seen as something of a grandmaster of the physical realm as he taunted gravity and also built a championship physique, but if you ask him where the road to greatness begins, he will quickly tell you: "You have to believe."