It's Reno Reunion VIII and if you're looking for some of the biggest names in arm wrestling, you'll be there.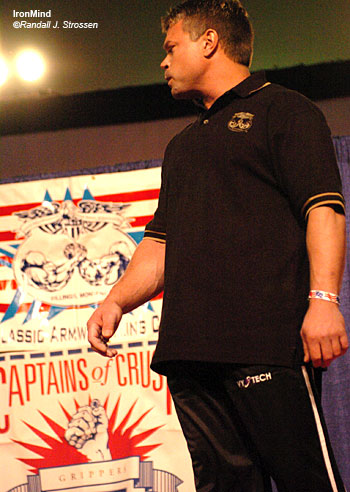 He doesn't pull it out of violin case, but for how deadly it is, he might as well: The John Brzenk forearm only knows two words when he steps up to an arm wrestling table. Pin and win. IronMind® | Randall J. Strossen, Ph.D. photo.

The Boomtown Casino & Hotel, home of some of the biggest and best armwrestling contests around, is hosting this AWP/USAA contest and USAA Executive Director Denise Wattles told IronMind®, "It will be a great one." Look for John Brzenk, Bob Brown, Chris Chandler and Cobra Rhodes, among the top names.

The Boomtown Casino & Hotel is off Interstate 80, outside of Reno, and the action begins with the novices and pros on Saturday (January 13), and continues with the amateurs and masters on Sunday (January 14). With "over $12,000 in cash and prizes," there's added incentive to pull hard. For full details, please check the USA Armwrestling website.