Gunsan, Korea - Wang Wenquing (China) won the 62-kg class today at the Asian Junior Weightlifting Championships, in a class that had a nice battle and gave a glimpse of a possible future star.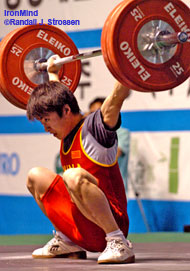 Low and solid, this 125-kg snatch gave Wang Wenquing the margin he needed to win the 62-kg category at the Asian Junior Weightlifting Championships today. IronMind® | Randall J. Strossen, Ph.D. photo.
Wang's victory was anything but assured when he couldn't stand up with with 156 kg on his third attempt. Lee Chang-ho (Korea) and Wang were tied on bodyweight, and on the final attempt of the category, Lee took 157 for the gold total and after a very strong clean, he missed the jerk. This left Lee with the bronze medal in the total, behind Sajad Behrouzi (Iran), a 16-year-old who appears to have a real future in the sport.