Doha - It was Wang Mingjuan (China) and then all the others in the women's 48-kg category at the Asian Games today.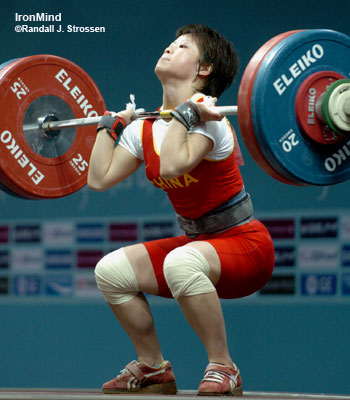 Wang Mingjuan got under 118 kg, equal to her junior world record in the clean and jerk, but she could not stand up with it. IronMind® | Randall J. Strossen, Ph.D. photo.

Not quite up to the standard of her three junior world records, Wang was still in a class by herself today, winning the 48-kg category with a 206-kg total. Silver went to Laosirikul (Thailand) with 192, and her teammate, Bunphithak, got the bronze with 191. Miyake (Japan) had looked to be in the hunt for a medal, but she missed her first two jerks, putting herself out of contention for a podium finish. Wang, while dominant, was not at her strongest, as she had to work to stand up with 112 and 116 on her first and second cleans, respectively; when she took 118 on her third, it was apparent why she did not attack her on own world record in the jerk, because while she pulled in the weight, she could not stand up with it.