Things have been busy over at WSMSS and Managing Director Jesper Albansson took a moment to run through some of the latest developments for IronMind®.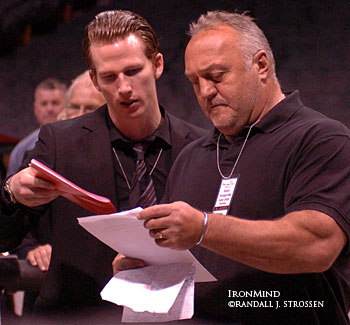 WSMSS Managing Director Jesper Albansson (left) does some pre-contest prep work with the archetypal strongman, Bill Kazmaier. IronMind® | Randall J. Strossen, Ph.D. photo.

Explaining that there had been an interest in upgrading their official website for some time, Albansson told IronMind® that the results of their efforts in this area are now starting to appear. "We are still implementing new features to the main site; however it is looking more like what we want it to. We are very pleased with the new design of our Grand Prix sites and the first out . . . the Muscle Beach GP site."

And for all the fans who want to be there in person, Albansson had some more good news: "One of the key features is that you are now able to buy your Super Series tickets directly from the Super Series Grand Prix sites," streamlining the process, so it's easier for you to see the world's top strongmen live.

Things are on the move over at World's Strongest Man Super Series, so keep your eye on the official WSMSS site for more developments.