WSMSS Mohegan Sun Grand Prix: The Events
IronMind® has just received the events for the WSMSS Mohegan Sun Grand Prix, and if you like your strongman contests heavy, with a list of name-brand competitors, you've come to the right place.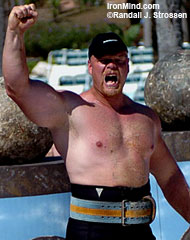 The King in his Court at the 2004 World's Strongest Man contest: Magnus Samuelsson, one of the world's top stone lifters, will be at the Mohegan Sun Grand Prix on June 1. IronMind® | Randall J. Strossen, Ph.D. photo.

And what less would you expect when, except for Vasyl Virastiuck, every World's Strongest Man winner since 1997 will be on hand - from Jouko Ahola to Mariusz Pudzianowski.

Here are the events, in order:

1. Frame Carry (like the Timber Walk used at the Arnold): 840 pounds
2. Axle Clean and Press: 300 pounds for reps
3. Car Deadlift: +800 pounds for reps
4. Conan's Wheel
5. Stones: ranging from 285 to 420 pounds (six stones)
6. Medley: Fingal's Finger, Tire Flip and Yoke

The Mohegan Sun Grand Prix is on June 1 in Uncasville, Connecticut and two days later, the AOBS dinner is in Saddlebrook, New Jersey, so get your tickets and plan to attend both events.