WSMSS Mohegan Sun Grand Prix: Bring on the Americans
It's on the homestretch now: the race to qualify for the 2005 World's Strongest Man is on its final leg next Wednesday, with the Mohegan Sun Grand Prix.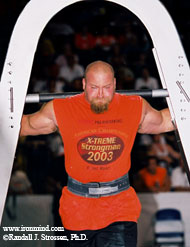 Don Pope takes the St. Louis Arch for a walk at Jim Davis's 2003 US Championships. IronMind® | Randall J. Strossen, Ph.D. photo.

This contest is the last chance to qualify for WSM '05 and this final grand prix event of the year will turn the spotlight on a number of American strongmen who have proven themselves as "forces to be reckoned with," said a WSMSS spokesperson.

Steve MacDonald, Josh Phigpen, Kevin Nee, Dave Ostlund, Chad Coy and Don Pope will be representing the US, and the big carrot, along with the title and a piece of the US$25,000 prize money, is an invitation to this year's World's Strongest Man contest.

The doors open at 6, the contest starts at 7, and for full details about tickets, please check the Mohegan Sun website.