WSMSS Mohegan Sun Grand Prix
WSMSS Tour Director Jesper Albansson told IronMind® that ticket sales for the Mohegan Sun Grand Prix are already more than double of last year and to put that in context, yesterday they even outsold such big acts as Ricky Martin and John Legend.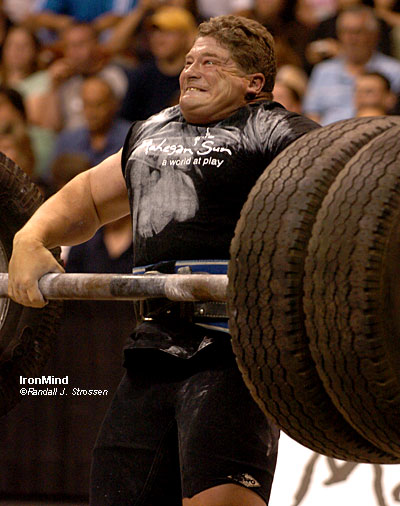 Mark Philippi makes it happen on the Apollon's Axle™ at the 2006 Mohegan Sun Grand Prix. Mark will be back this year - he's another top World's Strongest Man competitor you will see, and be able to meet, at the Mohegan Sun on April 22. IronMind® | Randall J. Strossen, Ph.D. photo.
What you have going at the Mohegan Sun, observers say, is the perfect mix of a world-class setting, world-class strongmen and staging, and a history of sound working relationships . . . all the critical elements for success are in place and that is why the WSMSS Mohegan Sun Grand Prix is thriving.

Want to talk big names in strongman? Look at this list, starting with the competiors:

Mariusz Pudzianowski
Janne Virtanen
Terry Hollands
Mark Felix
Vlad Ahlizov
Jessen Paulin
Louis-Philippe Jean
Don Pope
Kevin Nee
Marshall White
Mark Philippi
Jason Bergman
Darren Sadler
Odd Haugen

If that's not enough, consider that Svend Karlsen will be working as the World's Strongest Man Super Series Expert Commentator and the great Bill Kazmaier will be the emcee. Still not impressed? The ever-popular Jesse Marunde "is booked for TV and radio appearances starting Thursday next week and continuing all through Saturday," Jesper Albansson told IronMind®.

If you're in the area or want to pick a terrific destination for a strongman contest, plan to be at the Mohegan Sun on April 22. For full details, and tickets, please check the official Mohegan Sun website.