WSMSS Mohegan Sun 2008: The Stars are Lining Up
Want to see a world-class strongman contest in a world-class setting? Then plan on coming to the World's Strongest Man Super Series Mohegan Sun Grand Prix on January 19, 2008.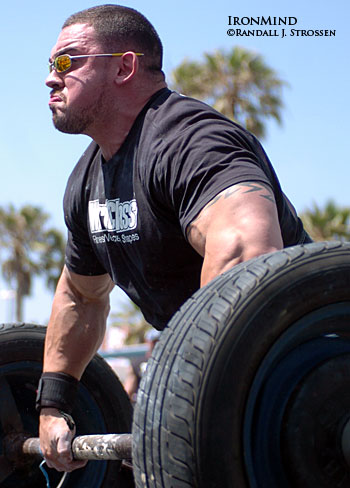 Local guy Kevin Nee - shown on the Apollon's Axle at the 2007 WSMSS Venice Beach Grand Prix - will be in the star-studded lineup at the WSMSS Mohegan Sun Grand Prix on January 19, 2008. This is where the journey to World's Strongest Man 2008 begins. IronMind® | Randall J. Strossen, Ph.D. photo.

WSMSS managing director Jesper Albansson is quick to praise the Mohegan Sun and the strong relationship the two organizations share, and the Mohegan Sun is where the WSMSS kicks off its 2008 tour. And just who will you see there?

Here's the confirmed lineup, officially:

1. Mariusz Pudzianowski
2. Sebastian Wenta
3. Terry Hollands
4. Mark Felix
5. Kevin Nee
6. Karl Gillingham
7. Dave Ostlund
8. Jason Bergman
9. Marshall White
10. Brian Shaw
11. Jessen Paulin

Please check the official Mohegan Sun website for ticket details.