This weekend is the eighth and final stage of the 2006 World Strongman Cup series and look for another field filled with top competitors drawn from around the world.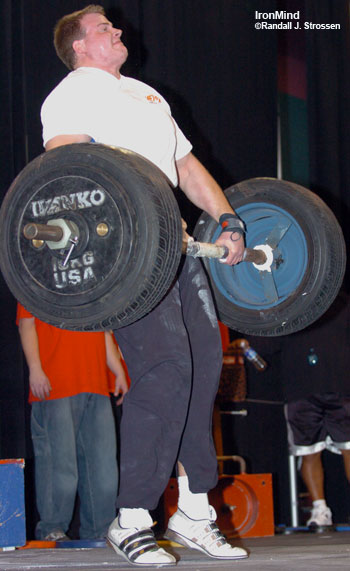 Well over two meters tall and looking good as he gives 150 kg a ride on the Apollon's Axle at the 2005 FitExpo, Dave Ostlund will be representing the United States this weekend at the World Strongman Cup competition in Russia. IronMind® | Randall J. Strossen, Ph.D. photo.
Here is the official list of competitors:

1. Mariusz Pudzianowski (Poland)
2. Ali Esmaili (UAE)
3. Dave Ostlund (USA)
4. Elbrus Nigmatullin (Russia)
5. Raivis Vidzis (Latvia)
6. Tarmo Mitt (Estonia)
7. Stoyan Todorchev (Bulgaria)
8. Terry Hollands (UK)
9. Majid Dejbarar (Iran)
10. Alex Kljushev (Russia)
11. Sergei Rjumin (Belarus)
12. Florian Trimpl (Germany)

And here are the official events:

1. Arm-over-arm truck pull: 7.5 tons
2. Apollon Axle: 140 kg for reps
3. Conan's wheel: 380 kg
4. Farmer's walk: 2 x150 kg for distance
5. Stones: five, ranging from 125 - 175 kg
6. Car deadlift: for reps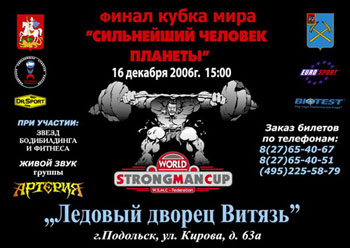 This weekend, the World Strongman Cup makes the final stop in its 2006 series. IronMind® | Artwork courtesy of Vlad Redkin.

This is it, time to pull out all the stops for one final, big effort not just to do well in this contest, but also to finish off the season with the highest possible overall position in this series. Coming into this last event, Mitt leads with 41 points, followed by Pudzianowski with 40, Nimatullin with 31, and then Vidzis with 30 points

World Strongman Cup promoter Vlad Redkin told IronMind®, "[This is the] last competition in this year . . . All [are] very tired, but will struggle!"