WSM Winner Phil Pfister: USPS Commemorative Envelope
The U.S. Postal Service is featuring 2006 World's Strongest Man winner Phil Pfister on a commemorative envelope, an honor that Pfister shares with fellow West Virginians Jerry West, Mary Lou Retton and Randy Moss.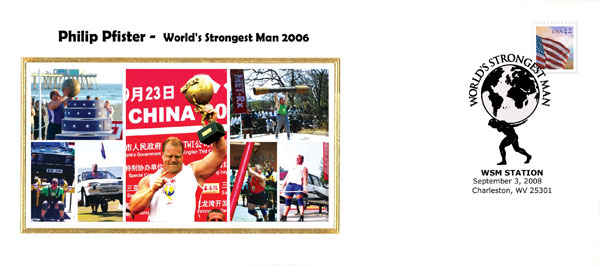 The U.S. Postal Service is honoring 2006 WSM winner Phil Pfister with a commemorative stamp. IronMind® | Image courtesy of Kim Whittington, Retail Specialist, U.S. Postal Service.

Featuring photos of Pfister winning the 2006 WSM contest in Sanya, China, this commemorative envelope will be printed in limited numbers and will be for sale at a ceremony at the Capitol Complex Cultural Center in Charleston, West Virginia and at "several Appalachian District Post offices while supplies last. Envelopes will also be sold as souvenirs during the World's Strongest Man competition at Chesapeake Energy tents set up around the city. Pfister has promised to autograph one envelope for anyone who purchases five or more."