WSM Svend Karlsen: Big Arms, Big Deadlifts, Big Contests
Although he's long since been retired from strongman competition, 2001 World's Strongest Man winner Svend Karlsen rocked the strength world when he casually talked about working up to a 400-kg deadlift this summer.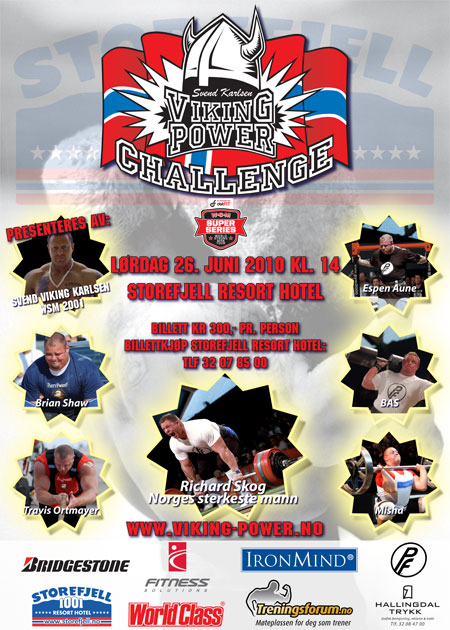 Viking Power Challenge 2010 will draw some of the world's leading professional strongman competitors. IronMind® | Courtesy of Viking Power Production.


Yesterday Viking told IronMind® that he has shelved the heavy deadlifts for the moment, but what's this: arms that are getting close to 23 inches? And Viking Power Challenge, drawing some of the world's top strongmen, as part of the 2010 World Strongman Super Series?

Viking said that he is weighing 139 or 140 kg at the moment and is aiming to weigh about 130 kg this summer.

"I am getting into good shape, training purely like a bodybuilder: If I can't be strong, I'm at least going to look like I am strong," he quipped.

Things are shaping up well for the 2010 edition of Viking Power Challenge and Karlsen told IronMind®: "I am very excited about Richard Skog. He is in very good shape and has a good chance to win." Considering the top international field expected to compete, this would be no small accomplishment.

On the heavy deadlifts, Karlsen said that he had to back off because of his joints and has kept them light for months now, although he's squatting 500 lb. for eight reps, rock-bottom and squeezing the reps out like a bodybuilder.

With no end in sight for him, Viking said, "I have been training now for 30 years and it is like my religion, my church."


Want to talk strength? Join the IronMind® Forum!

You can also follow IronMind® on Twitter.