WSM Super Series Mohegan Sun Grand Prix: Meet the Competitors
You read what Bill Kazmaier said about the lineup at the WSM Mohegan Sun Grand Prix, and here's your chance to meet the guys in person, right after the competition.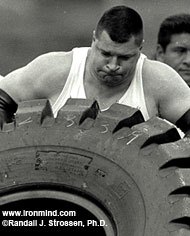 Karl Gillingham, shown at the 1999 Beauty and the Beast competition (Honolulu, Hawaii), said that he's really looking forward to seeing all the guys again: "This is a really special contest, with all those World's Strongest Man winners . . . plus, it's the opening chance to qualify for this year's World's Strongest Man contest." Come to the Mohegan Sun on June 1 and you can meet Karl Gillingham in person. IronMind® | Randall J. Strossen, Ph.D. photo.
IronMind® and the Mohegan Sun will be hosting a meet-and-greet immediately following the competition, so here's a once in a lifetime opportunity to get an autograph, ask a training question or get your picture taken with your favorite strongman.

Talk about big names, look at the start list:

Mariusz Pudzianowski
Magnus Samuelsson
Svend Karlsen
Janne Virtanen
Hugo Girard
Jesse Marunde
Terry Hollands
David Ostlund
Karl Gillingham
Mark Philippi
Josh Thigpen
Kevin Nee
Odd Haugen
Dominic Filiou

And as if that's not enough, Bill Kazmaier will be there as well, so get a ticket and plan to be at the Mohegan Sun on June 1 - for the contest and for the meet-and-greet right after the competition.