WSM Super Series Madison Square Garden Grand Prix: The Events
Set for the WaMu theater on June 21, the official event list for WSM Super Series Madison Square has just been released to IronMind®.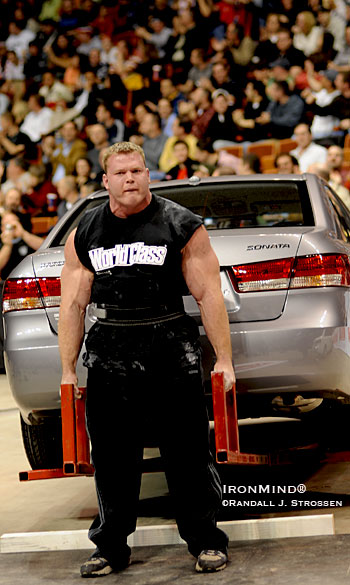 Derek Poundstone won the Eleiko Super Series Mohegan Sun Grand Prix and then he came in second at the Arnold, with a badly torn pec, so watch for big things from him in the WaMu theater at Madison Square Garden on June 21. IronMind® | Randall J. Strossen photo.

Following is a summary of the official description of the events.

Power Medley (flip and carry): Flip a 900-pound tire five times and then carry giant farmer's walk implements (385 pounds) 50 feet. Athletes compete in pairs, multiple pickups are allowed, and there is a 60-second time limit.

Eleiko Last Man Standing Deadlift: Deadlift an Eleiko bar loaded with 320 kg (~705 pounds); 340 kg (~750 pounds); 360 kg (~795 pounds); 370 kg (~815 pounds), and so forth until "there is one man standing." One miss and you're out; conventional style only; no straps.

"Husafell Stone:" The ~400-pound "stone" will be carried for distance on a 25-meter course. Athletes compete in pairs; no set down; no time limit.

Axle Lift (clean/continental and press/jerk): 300-pound Apollon's Axle, with wheels, lifted for reps. Cannot rest the bar on one's belt; 60-second time time limit.

The field will be reduced to the top six competitors for the final two events.

Super Yoke/Duck Walk Medley: 410-kg yoke carried for 12.5 meters, followed by picking up and carrying a 500-pound weight 12.5 meters to the finish line. Athletes compete in pairs.

Atlas Stones: Carry and load five stones (295 to 420 pounds). Athletes compete in pairs.

Events are noted as subject to change, and three alternate events have also been listed: Car Deadlift (reps, no straps), Tire Flip (900-pound tire, 25-meter course), and Farmer's Carry (160-kg/hand; 25 meters).