WSM Super Series, Eleiko Sport: Sign Agreement
It what sounds like a four-way win, Eleiko Sport has signed as the title sponsor for the World's Strongest Man Super Series; and by joining resources from both organizations, strongman fans as well as the sport as a whole should benefit from this agreement.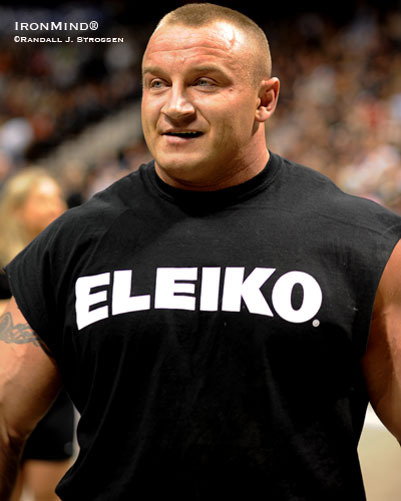 Four-time World's Strongest Man winner Mariusz Pudzianowski, the hottest commercial property among strongman competitors, showcases the Eleiko name at the WSMSS Mohegan Sun Grand Prix, where the WSMSS-Eleiko sponsorship received a soft launch last month. IronMind® | Randall J. Strossen photo.


WSMSS is arguably the world's top strongman tour, with a growing portfolio of leading grand prix events to its credit, and Eleiko Sport manufactures what is widely regarded as the world's premier barbell set, among other training-related products. IronMind® was told that, "Both parties' joint ambition is to work on a long-term basis, where 2008 marks the start."

Jesper Albansson, tour director of the World's Strongest Man Super Series, said, "We are very happy to be initiating a partnership with a brand such as Eleiko; a brand with a perfect fit with the sport. Moreover, their ambition is to broaden their international appeal, which marries well with the strongman sport in general and the WSMSS in particular." Through its sponsorship package, Eleiko will gain access to the live and TV events, with plans to expand into such outlets as www.strongman.tv, trade shows and other market communication channels.

Lennart Blomberg, managing director of Eleiko, said, "We have found that the Super Series is a perfect partner for us in implementing our market strategy: Via the events, the internet facilities and TV shows, we will be able to communicate with a large audience and at the same time allow for people to learn more about our products, as well as about our functional training philosophy."