WSM: Spectacular Opening Ceremony
With a huge, dramatic opening ceremony kicking off the 2006 MET-Rx World's Strongest Man contest, and all competitors safe and sound in Sanya, China the sparks are ready to fly when the qualifying heats begin in two days.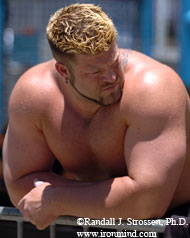 Jesse Marunde, a favorite in this year's MET-Rx World's Strongest Man contest, is coming in heavy, but also with good speed and endurance. IronMind® | Randall J. Strossen, Ph.D. photo.
One of the favorites for a podium position this year is the 2005 MET-Rx World's Strongest Man runner-up Jesse Marunde.

Marunde, who was featured on billboards in China during last year's contest, said that he has been training on the equipment that will be used in his qualifying heat. "I am supremely confident of my conditioning," Marunde said, but he added, "I can't make any predictions, though, because the field is so strong."

Marunde said, "I am heavy . . . 320 . . . and quite fast and have good wind," so by all preliminary indications, Jesse Marunde is ready to rumble.