WSM Qualifiers: The Viking View
"They've done a good job," 2001 World's Strongest Man Svend Karlsen said, as he sized up the qualifying heats for this year's competition.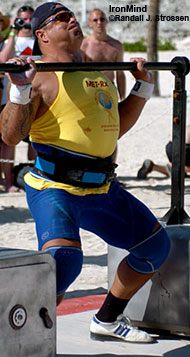 Svend "Viking Power" Karlsen gets ready to launch the Safe Lift at the 2004 MET-Rx World's Strongest Man contest. Read on if want to hear Svend's assessment of the qualifying heats for WSM 2006. IronMind® | Randall J. Strossen, Ph.D. photo.
The challenge is to keep the qualifying heats balanced and this is exactly what The Viking was applauding.

"They've done a good job dividing up the top competitors, spreading out the favorites," Karlsen told IronMind®, although he was quick to add that "someone can look good on paper, but once the competition begins, everything can change."

Running through the qualifying groups, Karlsen told IronMind® that Group 1, since it contains three-time World's Strongest Man winner Mariusz Pudzianowski, is unlike the others: "Instead of five guys fighting for two spots," said Karlsen, "it is four guys fighting for one spot," since he assumes that Mariusz will go on.

In Group 2, Karlsen said that he sees Terry Hollands and Jesse Marunde as the favorites to make the finals, and he noted how impressive Terry Hollands has looked lately; Jesse Marunde finished second in the 2005 MET-Rx World's Strongest Man contest, and he is on everyone's short list for a top place this year.

Group 3 - which comprises Mark Felix, Elbrus Nigmatullin, Phil Pfister, Darren Sadler and Janne Virtanen - earned a huge compliment from Karlsen, because he said, "This is a very, very tough group - all of these are very tough guys."

Jarek Dymek, Tarmo Mitt and Kevin Nee are Karlsen's pick for the guys most likely to be duking it out in Group 4; and in Group 5, Karlsen sees Magnus Samuelsson claiming one of the slots for the finals and the other one going to either Slawomir Toczek or Sebastian Wenta.

Karlsen, who retired from competition earlier this year, will be coaching Arild "I'm not Odd's son" Haugen, and he said that he is looking forward to being able to relax and enjoy the competition. Showing his good sense of humor, Karlsen added, "It's the first time at World's Strongest Man that I have a 100% chance of staying to the end."