WSM: Pfister Wins Three in Row
Sanya, China - Mariusz Pudzianowski still leads the 2006 MET-Rx World's Strongest Man contest, but Phil Pfister has won the last three events, whittling Pudzianowski's lead to a mere 1-1/2 points, with two events left.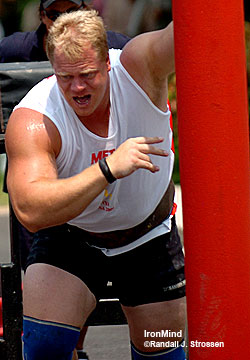 Up and over, charging for the next Fingal's Finger, Phil Pfister won the first event today, continuing the winning streak he started yesterday. IronMind® | Randall J. Strossen, Ph.D. photo.

Phil Pfister started the day 7-1/2 points behind Mariusz Pudzianowski, but when he won today's first event, the Fingal's Fingers, the tide was turning because that victory eliminated five of points that stood between him and the defending champion.

After the Fingers, here's how things stood:

1. Pudzianowski 33-1/2
2. Pfister 31
3. Pope 26
4. Felix 23-1/2
5. Mitt 23
6. Wenta 19-1/2
7. (tie) Hollands, Vidzis, Dymek 17
10. Toczek 9-1/2

The Bus Pull was next, and for many, it was a critical event: Pudzianowski was supremely confident that he would win, but Pfister fans knew that if their man beat Mariusz on the event, it would be a substantial psychological victory, not to mention the key to further closing the gap.

The course was slightly uphill, making it tough - so tough that when Jesse Marunde tested it, he could not budge the bus, so the start line was changed to put the back of the bus in a slightly less-downhill starting position. Pfister fully appreciated the significance of the event and gave it his all, and while he produced the best distance up to that point, he could not quite finish the course, so all he could do next was sit back and see what Mariusz could produce.

Pudzianowski came out of the blocks smoothly, stayed low and was accelerating, but he, too, hit the wall just short of the finish line - Pfister had beaten him by a mere 15 centimeters, but it might have been a mile because now he was just 1-1/2 points behind Pudzianowski going into the final day.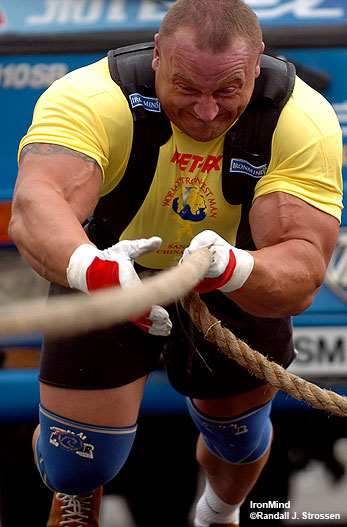 On the ropes: Mariusz Pudzianowski produced a sensational effort in the Bus Pull, but in the end, he couldn't match Phil Pfister's performance. IronMind® | Randall J. Strossen, Ph.D. photo.

Here are the places and points at the end of the second day of the finals:

1. Pudzianowski 42-1/2
2. Pfister 41
3. Pope 32
4. Felix 30-1/2
5. Mitt 27
6. Hollands 25
7. Dymek 22
8. Wenta 20-1/2
9. Vidzis 19
10. Toczek 12-1/2

Tomorrow, the last two events - the Car Walk and the Atlas Stones - will determine who will claim the 2006 MET-Rx World's Strongest Man title.