WSM: Pfister Dominates Overhead Stone Lift . . . Pudzianowski Leads
Sanya, China - After the first day of the finals at the 2006 MET-Rx World's Strongest Man contest, Mariusz Pudzianowski leads, but the day ended with Phil Pfister dominating the overhead stone lift, to move into third place, one-half point behind Mark Felix.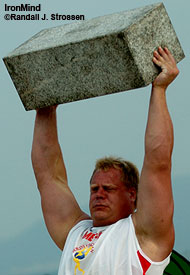 Phil Pfister nails the fourth and final stone, the only competitor to get past the second stone. IronMind® | Randall J. Strossen, Ph.D. photo.
There were ten competitors and four stones, and when the event was over, there were the guys who lifted either one stone or none, the guys who lifted two stones, and then there was Phil Pfister, who nailed the full set of four. With this impressive performance, Pfister moved into third place after three events.

Earlier, the power stairs had also proven to be a tough event that produced a lot of torn calluses and bloody hands.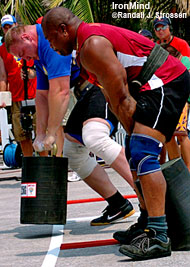 Tarmo Mitt nips Mark Felix at the line, to win his heat in the power stairs and finish second overall in the event. IronMind® | Randall J. Strossen, Ph.D. photo.

Mariusz Pudzianowski won the event, with Tarmo Mitt coming in second and Don Pope finishing third.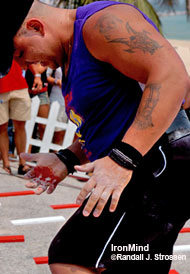 Raivis Vidzis finished the power stairs with badly ripped calluses and a very bloodly hand, but he taped up and went on the next event. IronMind® | Randall J. Strossen, Ph.D. photo.

At the finish of first day of the finals, with three events under their belts, here are the overall positions and points:

1. Pudzianowski 28.5
2. Felix 21.5
3. Pfister 21
4. (tie) Pope and Mitt 17
6. Dymek 14
7. Vidzis 13
8. Wenta 11.5
9. Hollands 10
10. Toczek 8.5