WSM Heats . . . Getting Hotter
"We are nearly there," TWI Event Producer Lisa Comber told IronMind, addressing the million-dollar question in strongman at the moment . . . just who's ending up in which heat at next month's MET-Rx World's Strongest Man contest.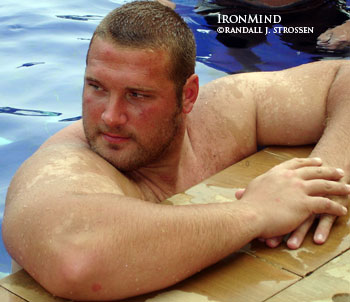 He might look as if he's merely in the middle of sun-drenched holiday, but the truth is that Terry Hollands had just survived the all-critical qualifying round of the 2006 MET-Rx World's Strongest Man contest, thereby earning he right to advance to the finals. Look for the mighty and massive Terry Hollands to be a top contender again this year. IronMind® | Randall J. Strossen, Ph.D. photo.

"I am just waiting to receive everyone's completed medicals, signed contracts and ensure everyone is able to get visas before I announce groups," Ms. Comber said.

To the legions of World's Strongest Man fans out there, the lack of an announcement yet might seem hard to understand, but there are good reasons for not being premature with this information.

"As you will appreciate," explained Ms. Comber, "unless we have a full complement of expected athletes, we will only have to change the groups around again and therefore I would rather not announce until it's all confirmed."

The World's Strongest Man contest, by far the leading event on the professional strongman circuit, is scheduled for September 15 - 23 in Anaheim, California.