WSF–World Cup: Belaz Strongman Cup 2011
Vlad Redkin has announced the WSF–World Cup Belaz Strongman Cup 2011, an international strongman contest set for Zodino, Belarus at the factory of OJSC Belarusian Autowork (BELAZ).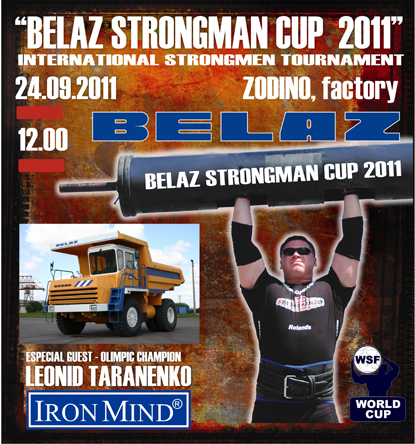 Olympic weightlifting champion Leonid Tarenenko will be a special guest at the WSF–World Cup strongman contest coming up in Zodino, Belarus. IronMind® | Courtesy of WSF–World Cup.


Athletes:
1. Alexander Lapyrov (Belarus)
2. Vjacheslav Astapenkov (Belarus)
3. Tarmo Mitt (Estonia)
4. Antanas Abrutis (Lihuania)
5. Rolands Gulbis (Latvia)
6. Richard van der Linden (Нolland)

Events:
1. Log lift 130 kg for reps
2. Conan wheel 400 kg
3. Farmers walk 2х135 kg - 50m
4. Tyres flips 320 kg х 8 reps
5. BELAZ pull - 20m

"OJSC 'Belarusian Autoworks' (BELAZ) is a major world manufacturer of mining dump trucks of heavy-duty and super-size load capacity, as well as the other heavy vehicles, being used in mining and construction branches of industry. We hope that this competition will be the start of our longterm cooperation with the biggest truck producer and we will break new records (pulling ) together!," Redkin said.

###

Visit the IronMind Forum: talk strength, discuss this story. Strongman, grip, Highland Games, Olympic lifting, stones and more.

You can also follow IronMind on Twitter.