WSF World Strongman Championships (-110 kg)
The 2012 WSF World Strongman Championships for competitors under 110 kg will be held in Kiev, Ukraine on December 16, Sergey Konyushok told IronMind today, as he released the official list of competitors and events.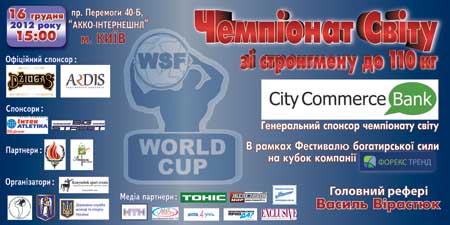 City Commerce Bank is sponsoring the WSF World Strongman Championships (-110 kg) in Kiev, Ukraine. IronMind® | Image courtesy of Sergey Konyushok.


Billed as a joint effort of the World Strongman Federation, the Ukrainian Strongman Federation and the Professional League of Strongmen of Ukraine, the competition will feature 13 competitors:

Start List
1. Konyushok Sergiy (UKR)
2. Reksha Volodymyr (UKR)
3. Smolyak Vadym (MOL)
4. Ziminskas Dalius (LIT)
5. Primov Hamza (UZB)
6. Beck Clarke (IRL)
7. Sendwichki Marchin (POL)
8. Variku Alan (EST)
9. Joren Lorenzo (HOL)
10. Naranov Dmitriy (KAZ)
11. Petkov Vladimir (BUL)
12. Kuznetsov Sergey (RUS)
13. Murdanov Vusal (AZB)

Events
• Medley: Tire Flip (360 kg x 6 flips); 2 Sand Bags (100 kg/10 meters)
• Log Lift: maximum
• Farmer's Walk: 2 x 130 kg/60 meters
• Crucifix: 2 x 12 kg/time
• Yoke Race: 360 kg/20 meters
• Deadlift: 300 kg/ 60 seconds
• Dumbbell: 90 kg/90 seconds
###

The IronMind Forum: discuss this article, talk strength, get help with your training.

You can also follow IronMind on Twitter.