WSF Turkey World Cup Results
WSF director Vlad Redkin said, "Ministry of Sport of Turkey and Governor of Dinizli have given their high evaluation for our competition organization in Traditional Sport Festival," as he reported the top results to IronMind.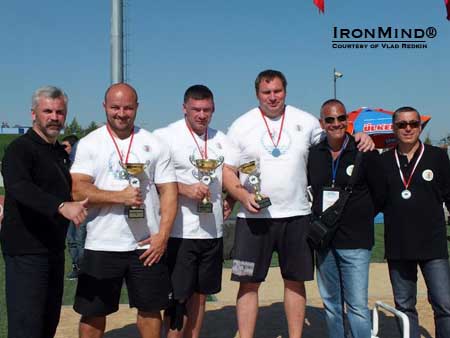 Left to right: Vlad Redkin, Bartalomei Bak, Rolands Gulbis, Tarmo Mitt, Gökhan Sonbahar and Güven Toksoy. IronMind® | Photo courtesy of WSF/Vlad Redkin.


"They will support WSF in next year and Gökhan Sonbahar will organize the stage of World Cup in Dinizli again," Redkin said.

Here are the top three, overall, officially:

1. Rolands Gulbis (Latvia)
2. Bartalomei Bak (Poland)
3. Tarmo Mitt (Estonia)

And the top three in Mas-wrestling, officially:

1. Antanas Abrutis
2. Rolands Gulbis
3. Tarmo Mitt - Volodimir Rekha (tie)

###

The IronMind Forum: discuss this article, talk strength, get help with your training.

You can also follow IronMind on Twitter.