WSF Strongman and IronMind Grip Classic Semi-Finals in Finland
Jyrki Rantanen told IronMind today that he expects "around 20 semifinalists battling out" when the IronMind Grip Classic joins the program at the Fitness Expo in Lahti, Finland, along with strongman action brought by WSF World Cup.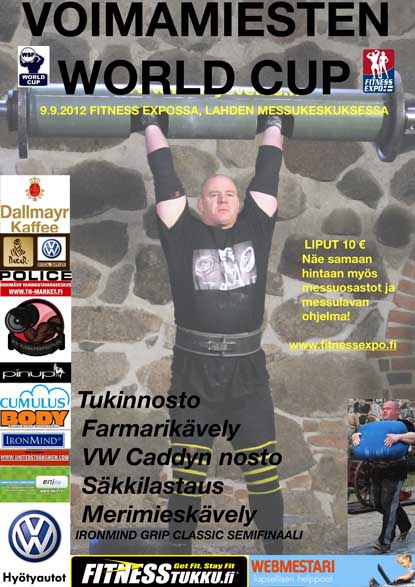 Strongman and grip strength will be on the calendar at the Fitness Expo in Lahti, Finland September 8–9. Could the world record in the Rolling Thunder fall? IronMind® | Courtesy of United Strongmen®.


Rantanen said that strongman competitors from Finland, Denmark and the Baltics will be part of what he describes as "a promotion for the sport inside of the Fitness Expo. We keep it quite easy as the events are like 130-kg log for reps, 300-kg deadlift for reps, 140-kg farmers, etc. It is the end of the season and we just want to do a nice promotion, without guys hurting themselves with too big weights, and that´s why we also have the same prizes to each competitor.

"After the World Cup we will have also the IronMind Grip Classic semifinal stage, where around 20 semifinalist are battling out, who are the ones for the final in Hämeenlinna Power Weekend November 23-24.

"At least we are expecting to see some huge results as the first Finn to certify on the Crushed-To-Dust! Challenge. Timo Tuukkanen faces other top countrymen along with Alexey Tyukalov and the Norwegian challengers, not to mention the ladies.

"For the first time in months we see the battle between the top ladies in Finland: Rolling Thunder world record holder Jaana Tanner is in her top shape as she just did a new world for finger hook against the scale and training is telling that some record attempts might appear in thick bar events, too. On the other hand, Yvonne Häkkinen has posted some results with grippers that make most of men to shame. And we can not forget the other top names either," said Rantanen.

###

The IronMind Forum: discuss this article, talk strength, get help with your training.

You can also follow IronMind on Twitter.