WSF European Championships
Vlad Redkin reported to IronMind today that the 2013 WSF European Championships will held on June 23 in Katowice, Poland with a prize list of US$10,000 and will be promoted by the Federation of Strongman Team Poland, headed by president Jarosław Nowacki.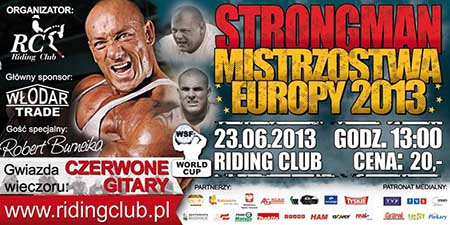 The 2013 WSF European Championships are set for June 23 in Katowice, Poland. IronMind | Image courtesy of WSF.


Athletes
1. Ľuboš Pevný (Slovakia)

2. Zdenek Sedmík (Czech)
3. Oleksandr Lashyn (Ukraine)
4. Tarmo Mitt (Estonia)
5. Rolands Gulbis (Latvia)
6. Ari Gunnarsson (Iceland)
7. Paul Roberts (Ireland)
8. Tomasz Kowal (Poland)
9. Mateusz Baron (Poland
)
10. Rafał Kobylarz (Poland)

Events
• Super Yoke: barrels
• Deadlift: car for reps
• Truck Pull
• Conan Wheel
• Powers Steps
• Medley: log (150kg), dumbell (100 kg), axle

###


Visit the IronMind Forum: talk strength, discuss this story. Strongman, grip, Highland Games, Olympic lifting, stones and more.

You can also follow IronMind on Twitter and on Facebook.