WMSSS: Muscle Beach Line Up
If you're a strongman fan, and want a taste of what the World's Strongest Man contest is like - and think a day spent beachside in beautiful Southern California doesn't sound too painful - plan to be at Muscle Beach on June 16.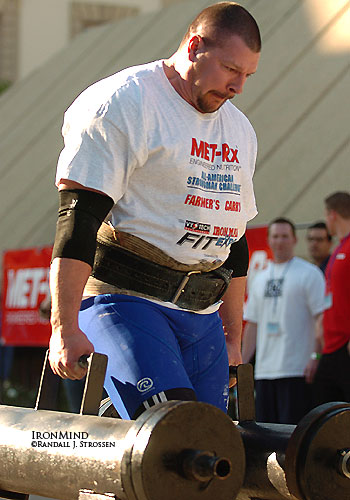 Karl Gillingham won at the FitExpo earlier this year, so he's on a roll in Southern California - see Karl along with fellow Minnesotan Dave Ostlund and a pile of other top professional strongmen in Venice, California on June 16. IronMind® | Randall J. Strossen, Ph.D. photo.

Here it is, the official lineup for the WSMSS Venice Beach Grand Prix:

1. Mariusz Pudzianowski
2. Jesse Marunde
3. Kevin Nee
4. Mark Philippi
5. Derek Boyer
6. Sam MacMahon
7. Karl Gillingham
8. Dave Ostlund
9. Brian Siders
10. Brian Turner
11. Tarmo Mitt
12. Odd Haugen
13. Corey St. Clair

Mariusz Pudzianowski is a three-time World's Strongest Man winner and Jesse Marunde was the runner-up in 2005, and if you look over the start list, you'll run out out of fingers before you're done counting World's Strongest Man appearances among the competitors. There is very limited seating for this contest, but if you act quickly, you might still be able to get one; full details are on the official WSMSS website.