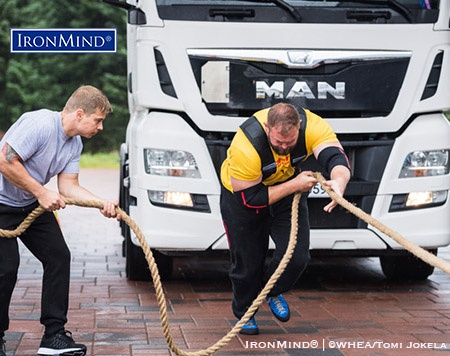 Featuring drug testing as its calling card, WHEA held its third strongman/strongwoman world championships.


2017 WHEA Championships

by Jyrki Rantanen

Chairman, World Heavy Events Association (WHEA)


The 3rd Annual US World Championships by WHEA (World Heavy Events Association) took place at Elenia arena in Hämeenlinna, Finland and we witnessed awesome battles between great athletes. The competition will be aired on CMORE MAX Channel in Finland 26th, September and in October it can be found in WHEA Youtube channel also.

Here is the list of honor for this year, the 2017 US World Championships 2017 winners:


W-65kg Sari Paukkunen, Finland
W-75kg Jaana Tanner, Finland
W-85kg Anna-Maria Rönnqvist, Finland 
W-open Rebecca Roberts, Wales
M-80kg Mikko Kiviharju, Finland
M-90kg Eetu Särkiniemi, Finland
M-105kg Juha Keskinen, Finland
M-Open Michael Allen, England


I´m very pleased with our event, which went smoothly, and we are proud to see that our hard work is getting somewhere as the event of strongmen/women under a anti-doping program is growing year by year—I just can´t even imagine where we stand after the next 3 years' time as we are getting much interest from new countries. For example now we had the first American athlete in also ,along with nearly 30 other foreigners.

                                                        ###



You can also follow IronMind on Twitter, Instagram and on Facebook.                        



Want to talk grip, strongman, weightlifting . . . everything strength? Visit the IronMind Forum.