WAA Grip Contest in Moscow
Staged in the Alex Fitness Gym in Moscow, the World Arm Lifting Association (WAA) grip contest drew an estimated 60 competitors, Juha Harju reported to IronMind.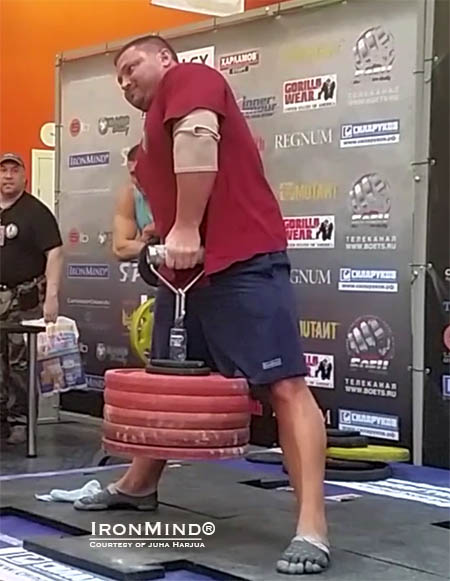 Alexey Tyukalov (Russia) pulling 131.75 kg on the Rolling Thunder, was the overall winner of the WAA grip contest in Moscow.  IronMind® | Courtesy of Gripmasters/Juha Harju


World Arm Lifting Association: 2014 Moscow Competition
by Juha Harju

The competition was held in the Alex Fitness gym, a stunning location: The gym was big, very clean and everything was organized very well and the gym staff took us really good care of us. 


The events were: IronMind Crushed-to-Dust Challenge, IronMind Hub, IronMind Pinch Block, IronMind Captains of Crush (COC) Silver Bullet Hold, IronMind Apollon's Axle Double Overhand Deadlift, and IronMind Rolling Thunder. Juha Harju, Alexey Tyukalov and Nikolay Vitkevich were the referees.

Friday started with three attempts to certify on Captains of Crush grippers: Michael Khomutov and Vasiliy Myakchilo tried to certify on the Captains of Crush No. 3 gripper and Eugene Khychkin tried to certify on the Captains of Crush No.  3.5 gripper. Some great attempts but none of the candidates succeeded this time.

Next was the IronMind Crushed-to-Dust Challenge. Many competitors tried this challenge and Juha Harju and Mikhael Khomutov succeeded.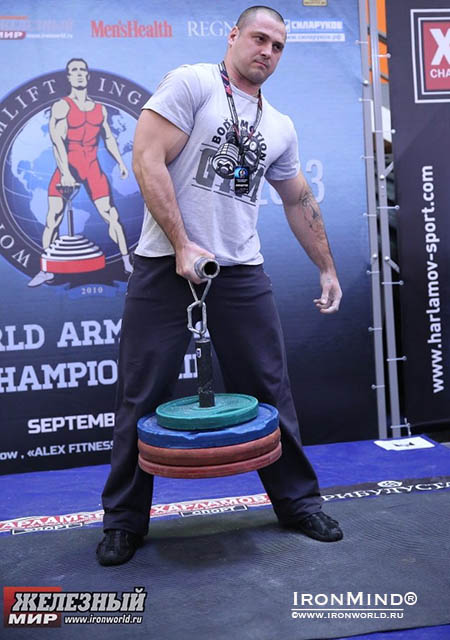 Mikael Khomutov on his way to certifying on the Crushed-To-Dust Challenge. IronMind® | Image courtesy of www.ironworld.ru


On the Apollon's Axle and Rolling Thunder, we saw many strong lifts. For example, one of the world's strongest powerlifters, Andrey Malanichev, pulled a nice lift of 113 kg. Also, strong Russian bodybuilders tried the Rolling Thunder, which is really positive news for grip competitions in the future. 

Alexey Tyukalov won Apollon's Axle Double Overhand Deadlift with easy 210-kg lift. 

Similarly, the Rolling Thunder victory, with a 131.75-kg result, went to Alexey.

In the women's class, Natalia Trukhina was overwhelming: She won Rolling thunder with 68 kg and the Apollon Axle's with 100 kg. Yvonne Häkkinen was second in the Rolling Thunder, with a 53-kg success.

The IronMind Pinch Block was a hard struggle between Juha Harju and Alexander Kirillov. Kirillov is world class nail bender and he showed his strength also on the block pulls. Juha Harju took the victory with 88-kg result and Kirillov pulled 78 kg. Kirillov won the IronMind Hub and Harju was second.

Juha Harju won the CoC Silver Bullet Hold with time 37.19 sec. 


Overall results
1.Tyukalov Alexey (Russia)
2. Juha Harju (Finland)
3. Alexander Kirillov (Russia)
4. Asinovskiy Alexander (Russia).

After the competition, Juha Harju and the main organizer of the event Sergey Badyuk (President of the World Armlifting Association) discussed the weekend's events, and generally grip competitions around the world. Sergey told to Harju that next year this same happening will be even bigger.

Special thanks to Sergey Badyuk (President of WAA), Nikolay Vitkevich (general secretary of WAA) and Denis Shmaryov who took care of us all weekend. Competition was high-level and next year we will see you again.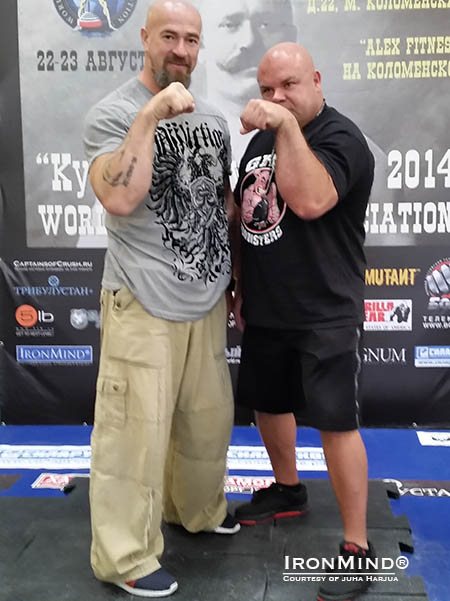 Juha Harju (right), who both refereed and competed, was the guest of the WAA and its president, Sergey Badyuk (left). IronMind® | Courtesy of Gripmasters/Juha Harju


                                                                        ###



Visit the IronMind Forum: talk strength, discuss this story.  Strongman, grip, Highland Games, Olympic lifting, stones and more. 

You can also follow IronMind on Twitter and on Facebook.