Virgin Embraces Dave Morgan
You might know him as the greatest British weightlifter in recent decades or as the expert weightlifting commentator for Eurosport, or perhaps as one of the most in-demand trainers in Cambridge, England, but now Dave Morgan is set to add another chapter to his string of accomplishments.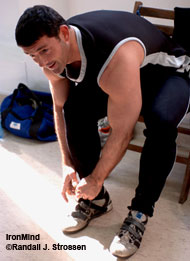 Shown booting up for a few light squats in the training hall at the 2006 European Weightlifting Championships, Dave Morgan - a five-time Commonwealth Games gold medalist in weightlifting - just got a book deal with Virgin. IronMind® | Randall J. Strossen, Ph.D. photo.

Morgan, who is ever-open to new challenges, is in training for the Masters World Weightlifting Championships and he appears to be on track to not just win, but also to break all three world records in the 77-kg category.

Morgan is thoroughly British - with five Commonwealth gold medals in weightlifting to prove it - but you'd never know it from his many successes on the international weightlifting platform, a stage typically dominated by Eastern and Central European, as well as Asian, nations. Morgan's physical exploits are not limited to the snatch or the clean and jerk, however, as he has also distinguished himself in things ranging from dips to rowing, and he's coming off a recent round of 20-rep squats, inspired, he said, by the book SUPER SQUATS.

And talking books, Dave Morgan is on his way to joining the ranks of distinguished authors in the field as Virgin Books has signed him up to write a book that will be unique in that Morgan will make available to all the sorts of training principles used by the world's most elite athletes.

"It's for everybody, really," Morgan said. "From 25 to 80, for people who want to be their best and have a long term view. It's not just about being good when you're young, and it's not just about looking good." Not that looking isn't part of the package, though, because as Morgan points out, there are only two things that shape your body - muscle and fat - and his book shows you how to add muscle and trim fat.

Stay tuned for more updates.