Viktors Scerbatihs: The Strongest Man in Europe
Strasbourg - Winning the +105-kg category at the European Weightlifting Championships tonight, Viktors Scerbatihs (Latvia) earned the right himself the strongest man in Europe.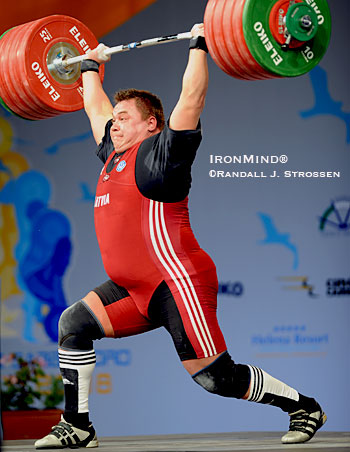 Viktors Scerbatihs, after he had already won the +105-kg category at the Europeans Weightlifting Championships, gives 252 kg a ride - he cleaned it easily, but missed the jerk. IronMind® | Randall J. Strossen, Ph.D. photo.

Young Dimitrios Papageridis (Greece) has been improving and he sailed through three good snatches to land at 192, which gave him the bronze medal in that lift. Scerbatihs was also good on all three snatches, each knocked off in his typical piston-like style, and his best, 202, gave him the silver medal. Evgeny Chigishev, as well, went three for three, and his 205-kg third attempt was the gold medal snatch.

In the clean and jerk, Papageridis went out after making 220 on his opener, and Chigishev had the same pattern with 230. Gregorz Kleszcz (Poland) got the bronze with 232 kg, and his teammate Pawel Najdek got the silver with 241 - a must-have third attempt that he made after missing 230 and 232. Surrounded by this relative carnage, Scerbatihs stood alone, as he smoked 238 and 245, before missing the jerk on 252.

Scerbatihs totaled 447, followed by Chigishev, with 435, and Najdek, with 421.

Russia won the team classification for both men and women.