In 1997, Svend "The Viking" Karlsen was in Las Vegas and while nothing was burned to the ground, some cars got rolled - all part of the World's Strongest Man contest, which the Nordic strongman has since won.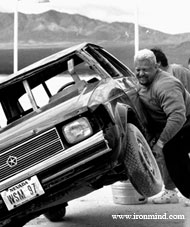 Nice Viking fun: rolling a car in the desert. World's Strongest Man winner Svend Karlsen is relocating to Las Vegas in November, so if you need him for seminars, appearances, TV commercials, etc., now is the time to book him. IronMind® | Randall J. Strossen, Ph.D. photo (Primm, Nevada).

The Las Vegas bug must have bitten, because Svend and his family are moving to Las Vegas in November, and Svend told IronMind®, "I'm very excited to share this news with the strength world - I will bring my family of three into the desert - Las Vegas - this November. We are looking forward to it very much. We love the American way of focusing on health, strength and sport. I have always felt welcome in the States - this is perfect!"

The Viking says, "I will promote strongman as well as I can, and I hope I will meet a lot of strongman fans out there."

Svend "The Viking" Karlsen, World's Strongest Man winner, is available for seminars, exhibitions and TV commercials; please conact him through his website.